All articles of our Bargain category are new. These artilces were returned by customers and are not used yet, but the packaging may be opened.
Basic fitting set - DN20 - 4x insert ring - 4x sealing ring Centellen 3825, 30 x 20 x 2 mm - 4x nut 1 "- 2x double nipple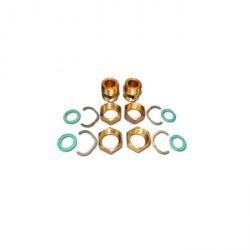 Ex stock within 4 days deliverable

Do you have any questions?
We would like to assist you!
Product Description
The basic fitting set is suitable for connecting corrugated stainless steel pipes.
Application
The basic fitting set offers all the basic elements required for a connection.
Technical Data
Content -
4 x insert rings
4 x Centellen 3825 sealing ring 30x20x2 mm
4 x nut 1 "
2 x double nipples
Ratings


No evaluation has been given