All articles of our Bargain category are new. These artilces were returned by customers and are not used yet, but the packaging may be opened.
Remainders - Mounted Points "HORSE" - KE 2545 6 ADW 30 L 6 B - Hardness L - Korundgemisch - cone - resin bond - Ø6mm x 40mm - grain size K30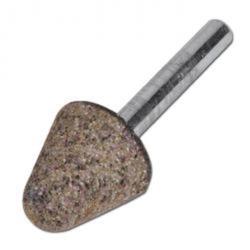 Ex stock within 4 days deliverable

Do you have any questions?
We would like to assist you!
Product Description
Taper pin for processing rust and acid-resistant steels and for hard non-ferrous metals
especially for the general use with high stock removal
Application
Original PFERD brand product
high removal
Mounted points in hardness L perform best at a cutting speed of 35 to 50 m / s
as prime movers flexible shafts, electric and pneumatic straight grinder can be used
Technical Data
Head Ø x head length - Ø25 x 45 mm
Grain size - K30
Shank Ø x Shaft Length - Ø6 x 40 mm
.. Maximum permissible rotation - 34000 1 / min
recommended cutting speed - 35-50 m / s
Hardness - L according to ISO 525
Material Grinding Head - quality resin bond and abrasive grain mixture of white and dark red corundum
Bond - resin bond
Material Shaft - Steel
Ratings


No evaluation has been given