All articles of our Bargain category are new. These artilces were returned by customers and are not used yet, but the packaging may be opened.
Remainders - keyed chuck with key - pierced - for hand-held drills and impact drills - span - 0.5 mm - 10 mm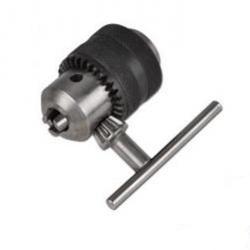 Ex stock within 4 days deliverable

Do you have any questions?
We would like to assist you!
Product Description
The proven gear chuck is particularly suitable for hand-held drilling and impact drills.
Application
The sprocket drill chuck has a right-left rotation, is durchbort and comes incl. Key C 2.
Technical Data
Span - 0.5 mm - 10 mm
Length - 49 mm
Female thread - 3/8 - 24 UNF
Weight - 160 g
Bore - 5.5 mm
Ratings


No evaluation has been given