All articles of our Bargain category are new. These artilces were returned by customers and are not used yet, but the packaging may be opened.
Lever arm coupling - aluminum - female piece - Kamlok - type D - inner thread according to DIN 228 or MIL-C-27487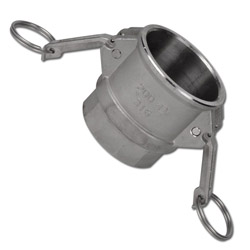 Ex stock within 4 days deliverable

Do you have any questions?
We would like to assist you!
Product Description
Lever arm coupling for the detachable connection of hoses
Application
Female piece (Type D) matching Kamlok male piece (Type A, F)
Detailed Description
Lever arm coupling - aluminum - female piece - Kamlok - type D - inner thread according to DIN 228 or MIL-C-27487
Product Description
Lever arm coupling for the detachable connection of hoses
Application
Female piece (Type D) matching Kamlok male piece (Type A, F)
Technical Data
According to DIN 228 or MIL-C-27487
Material: Aluminum
Thread Sealant: Polyurethane (PU), with corrosion-resistant design PTFE gasket or Nitrile
Coupling gasket: Nitrile (NBR), with corrosion-resistant design of Hypalon (CSM)
Kamlok coupling with connection: 1/2"... 6" inner thread
Operating pressure 6 to 16 bar
Ratings


No evaluation has been given