All articles of our Bargain category are new. These artilces were returned by customers and are not used yet, but the packaging may be opened.
Remainders - Mounted Points "HORSE" - Hardness R - Silicon Carbide - cone - ceramic bonding - for foundries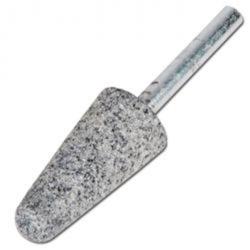 Ex stock within 4 days deliverable

Do you have any questions?
We would like to assist you!
Product Description
Taper pin for machining gray and white cast iron
specifically for use on edges and grinding of mineralization with high dimensional stability
Application
Original PFERD brand product
high dimensional stability
Mounted points in hardness R perform best at a cutting speed of 30 to 50 m / s
as prime movers flexible shafts, electric and pneumatic straight grinder can be used
Technical Data
Ordering designation KE 3550 8 CU 24 R 5 V na
Head Ø x head length 35 x 50 mm
Grain size K24
Shank-Ø x Shaft Length 8 x 40 mm
Max. Perm. Speed ​​15600 1 / min
recommended cutting speed - 30-50 m / s
Hardness - R according to ISO 525
Material Grinding Head - ceramic bonding and gray silicon carbide
Tie - ceramic bond
Material Shaft - Steel
Ratings


No evaluation has been given