Mesh box turner type RGW - for Euro mesh boxes - dimensions 570 x 1640 x 450 mm - load capacity 450 kg - various designs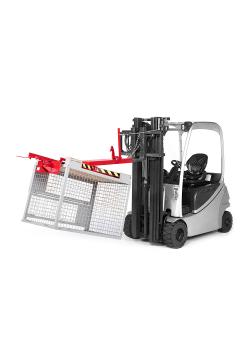 Do you have any questions?
We would like to assist you!
Product Description
The mesh box turner type RGW enables the quick and easy emptying of Euro mesh boxes (DIN 15155).
Application
The stable welded construction is picked up with the forklift and secured against slipping by means of a chain attached to the device.
The lattice box can be moved under in the longitudinal direction, to fix it you actuate the lever which engages in all four feet of the GIBO with swivel arms.
The lattice box is tipped by releasing the lock using a cable.
After this quick and easy emptying, the hanging mesh box can be brought back to its starting position by lowering the boom and at the same time reversing.
The lattice box turner can be conveniently operated by one person from the forklift seat.
With the wire mesh box turner RGW, up to 450 kg can be emptied in one fell swoop, which is particularly time-saving, body-friendly and inexpensive.
According to the labeling requirement ASR A 1.3, the box turner has yellow / black warning stripes.
Technical Data
Material - powder coated
Dimensions (W x D x H) - 570 x 1640 x 450 mm
Payload - 450 kg
Weight - 90 kg
Color - different colors
Versions: (6)
Article No.
colour
Price excl. VAT
958510010232
RAL 3000 fire red

Material surcharge included:

€

84,00

958510010233
RAL 5010 gentian blue

Material surcharge included:

€

84,00

958510020237
RAL 2004 pure orange

Material surcharge included:

€

84,00

95851006250
RAL 6011 reseda green

Material surcharge included:

€

84,00

958510082251
RAL 5018 turquoise

Material surcharge included:

€

84,00

958512040062
RAL 7005 mouse gray

Material surcharge included:

€

84,00
Ratings


No evaluation has been given